Tatekoshi shrine
The historic shrine, divided a shrine's tutelary deity by Koubou Taishi.
The historic shrine, divided Kyoto Fushimi Inari's tutelary deity by Koubou Taishi(Ku-kai)in 811 and reverenced as Anegami of Takekoma shrine in Iwanuma which is one of japanese three major Inari. It is called 'Tatekoshi shrine' since it is located near the base of a mountain called the hips of castle along the road of Oushu kaido. When 4 cities,Uematsu、Hongo、Horiuchi、Iinozaka, were consolidated in 1889, the city was named 'Tatekoshi mura' taking the name of shrine. The shrine worships Ukamitamano-kami,Sarutahikono-kami,Omiyahimeno-kami as deities of the Shrine. Also, there is 'Tenmansha' worshipping Michizane Sugawara as a God of study and agriculture and 'Tenjin-kou' is done praying for academic improvement and healthy growth in August every year. Next to the shrine, there is old temple of the Shingon sect"Guzei temple". It is said that the temple was founded by Koubou Taishi(Ku-kai) in 9th century and it received temple's territory from the domain of Sendai, kept high status and owned 16 branch temple in old Natori gun in Edo era. The name of the place, 'Uematsu' came from the pine tree planted by Koubou Taishi.
| | |
| --- | --- |
| Area | Tatekoshi Area |
| Address | Aza Uematsu4-2-16,Tatekoshi,Natori City |
| Parking | Parking: Available (No charge Capacity is approx. 12 cars / middle size bus is available) |
| Access | 5 mins by walk from JR Tatekoshi station |
| MAP | |
Related articles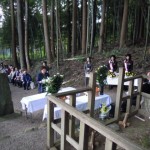 Remembering a famous Waka poet, 'Lieutenant General Fujiwara Ason Sanetaka'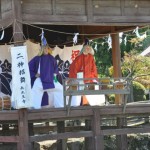 The origin of Kagura spread out around Sendai and South of the city.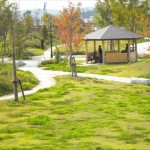 Let's enjoy nature!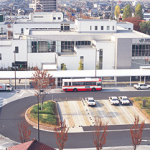 A stylish JR station building made of white chalk.