Access to Natori City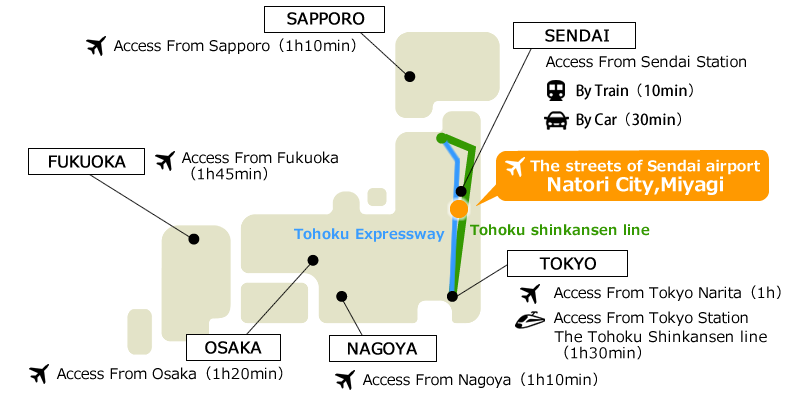 International
A 2-hour flight from Seoul
A 3-hour flight from Shanghai
A 3-hour flight from Taipei
A 4-hour flight from Guam
A 5-hour flight from Beijing
A 6-hour flight from Bangkok
From Sendai
By Train
A 15-minute train ride from JR Sendai Station to Natori Station on the "Tohoku Honsen" Line, the Sendai Airport Access Line, or "Joban" Line
By Car
A 30-minute drive south on Route 4
*If you wish to rent-a-car, we recommend that you take a train from JR Sendai Station to Sendai Airport, and then from there, rent-a-car and drive to Natori from the airport.
From Tokyo
By Airplane
A 1-hour flight from Narita International Airport to Sendai Airport
By Super Express Train
A 1 hour and 40 minute bullet train ride from JR Tokyo Station to JR Sendai Station, then, a 15-minute train ride from JR Sendai Station to Natori Station on the "Tohoku Honsen" Line, the Sendai Airport Access Line, or "Joban" Line
By Car
A 3-hour and 30-minute drive from Urawa Interchange on the Tohoku Expressway, exit at Sendai Minami Interchange. It's an 11-minute drive on Sendai Nanbu and Sendai Tobu Expressways.