A group giving information on the "Yuriage" earthquake disaster
Giving accounts of the disaster and the damage in the" Yuriage" area to the visitors
閖上震災を伝える会のガイドについて
This group gives visitors an insight on the disaster and the aftermath in the "Yuriage" area. A guide joins your tour bus and goes around the "Yuriage" area telling you about the tragic events of the disaster. At the end of the tour, the bus takes you to a temporary market place; "Yuriage Saikai" Market and the Maple Pavilion so that you can give your support by shopping. "Yuriage" ark shell and Natori Seri (Japanese parsley) can be eaten at these places.
If your tour schedule is tight and you cannot come to the Market and/or the Pavilion, please let us know. If you register by fax, write a memo in relation to your itinerary. If you register via the Internet, please write your schedule after your name on the application form.
*The tour route is not fixed since reconstruction work is continuously ongoing, and the roads are changing.
ファックスでの申込み
The Internet Registration Form
インターネットからの申込み
| | |
| --- | --- |
| Area | Tour route: Yuriage town ~ Hiyori Mountain ~ Memorial Monument ~ Yuriage Saikai Market / Maple Pavilion Length of the tour: 1.5 ~ 2 hours |
| Address | 4-19, Yuriage, Natori City |
| Contact Information | FAX: 022‐281‐9081 |
| Regular holiday | Saturday & Sunday |
| Parking | Parking is available. |
| URL | http://yuriage1.blog.fc2.com/ |
| MAP | |
Related articles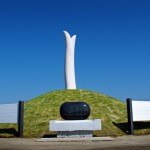 To mourn for the people who died in the disaster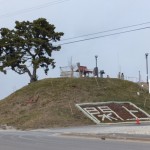 "Hiyori" mountain is the place to pray for victims as you look out over the "Yuriage" disaster area.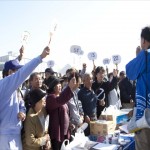 Feel free to take part in this event, and get a bargain at the market!