"Kumanodo Juunishin Shishi Odori"
A dance in hope for an abundant harvest
The name of the dance was derived from an alias of "Kumano Hongusha" Shinto Shrine "Junishin". "Junishin" means twelve Gods. It was handed down by a Buddhist monk from "Yashirogo" in "Yonezawa" during the "Bunsei Nenkan" era (1144-1148), and has been protected by the local residents around the shrine.
The dance once died out at the end of the Edo era, but it re-emerged in the Meiji era. It used to be called "Takadate Juunishin Shishiodori", a kind of "gagaku" which is ancient court music and dance using a Japanese drum performed in a Sendai feudal domain. The special features of the dance are the costumes and style. This dance used to be performed for family ancestors during the "Obon" in the summer, a religious event to commemorate the souls of the ancestors. Now, it is performed for an abundant harvest.
*Performances are during the spring festival in April, and during the autumn festival in October.
| | |
| --- | --- |
| Area | Takadate area |
| Address | Aza Gotanda,Takadate Kumanodo,34, Natori City |
| Contact Information | 022-386-2353 |
| Parking | Parking is available for 20 standard vehicles and large buses. |
| Access | Take the bus on the "Sogodai" line (Natorin-go), and get off at "Nachigaoka Iriguchi". From there, it is about a 15 minute walk. |
| MAP | |
Related articles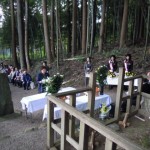 Remembering a famous Waka poet, 'Lieutenant General Fujiwara Ason Sanetaka'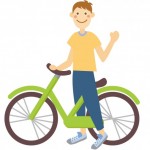 Tour Natori City by bike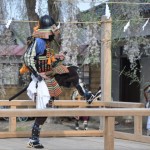 One of the local Bugaku in the city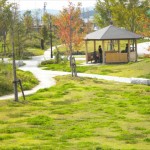 Let's enjoy nature!