Restoration from the Disaster
The coastal area of Natori City was destroyed by the Great East Japan Earthquake & Tsunami on March 11th, 2011. Notably in "Yuriage", where the area had been flourishing as a port town since before the "Edo" era, many people were killed. Sendai Airport, the Tohoku gateway, located near the Pacific coast was also washed away and was unable to function. Because there were buildings lower than the tsunami in the coastal area, and the land was flat, many people died in the tsunami.
Now, a group which gives information on the "Yuriage" Earthquake Disaster is trying to spread their knowledge and experience nationwide to the next generation to prevent and reduce future destruction from disasters.
Farmers who have finished removing salt from their farms resumed planting, and fisherman returned to the port. Owners of factories, shops and restaurants have resumed business in temporary buildings.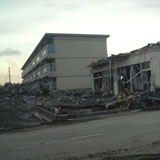 Disaster
Images: Presented by SASANAO Co., Ltd.
Natori City was devastated by the Great East Japan Earthquake & Tsunami on March 11th, 2011. In particular, the coastal area was washed away by the tsunami as the land was flat; as a result, many people died.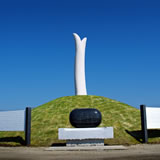 A Memorial Monument on "Hiyoriyama"
This memorial monument represents the image of the deceased ascending to heaven as well as our strong will for revival. The height of the monument is the same level as the tsunami which hit this area.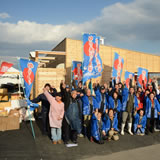 Restoration
The "Yuriage" Port Morning Market and the Maple Pavilion reopened in May, 2013 in hopes of making the "Yuriage" area one of the biggest attractions in Tohoku. It is not just restoration but also the revival of this area.