Natori's Mascot
The Name of Natori City's mascot is "Carna-kun"
 Who has a carnation flower on his head. His name is derived from carnation flower and Natori. His body is designed as an"N", the first letter of Natori.
Profile of Carna-kun
Favorites: Airplane, Sushi with Yuriage ark shell
Dream: To becomes a pilot
Talent: Flying a paper airplane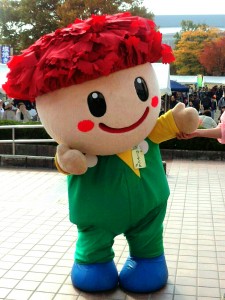 "Everyone come and give me a lot of support, okay!?"
A project to develop a new version of "Carna-kun" started in May 2014 at the Akizuki seminar in Shokei Gakuin University, Department of Culture and Communication Activities.
Visit us at http://c-v-p.com/