What is the meaning of Natori's revived cherry trees?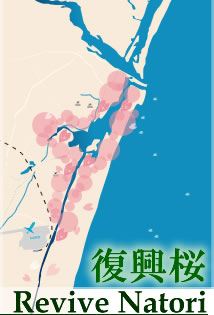 Many people were killed within minutes in the "Yuriage" area by the March 11th, 2011 tsunami; however, a few cherry trees survived the tsunami and some cherry blossoms bloomed in April, a month after the disaster.
 We named these trees "Natori's Revived Cherry Trees" in hopes of reuniting with the many people who have moved out of "Yuriage" after the disaster. We are trying to increase the number of cherry trees and in the hope that people will come back to "Yuriage" to see the blooming cherry blossoms. Also, these trees are in memory of those who lost their lives on that day, and for them not to grieve by seeing a deserted "Yuriage" area.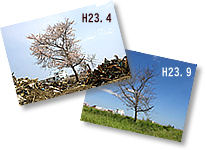 Natori City is now planning to grow young cherry trees grafted from the surviving trees' sprouts, and make a new sightseeing place full of cherry trees to restore Natori City's tourism.
Why do we plant cherry trees along the "Teizan" canal?
There was nothing left to be seen but the "Teizan" canal in "Yuriage" as everything was washed away by the tsunami. All of the citizens are aware of this canal, so we would like to plant cherry trees along the canal.
"Teizan" is the longest canal in Japan. The part of the canal which runs through the "Yuriage" area is a historic site. It is said that the Lord of the Sendai domain, D"ate Masamune", used the site when he formally established the Sendai Domain more than 400 years ago.
Why was the "Teizan" canal built?
This is because it was effective to use a waterway rather than a land route to transport lumber and material from the forest in the upper mountainous area of the "Abukuma" River to Sendai Castle which was located in the upper region of the "Natori" River. In addition, the canal was built in order to avoid using the dangerous open waters of the Pacific Ocean, reduce the time of loading goods, and achieve an effective way of transporting the goods.