Planting Ceremony at Exhibition Sites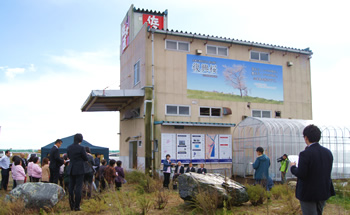 Venue: The existing site of "Sasanao", a fish cake factory
Date: November 8, Wednesday, 2012
We held a planting ceremony at the existing site of "Sasanao", a fish cake factory. This factory building was only a shell as everything inside was destroyed by the tsunami, and it stood alone in the "Yuriage" area where there were no houses or buildings remaining. In order to avoid the salty sea breeze, we made a vinyl greenhouse at the side of the factory site and exhibited some young trees with a big and a small signboard.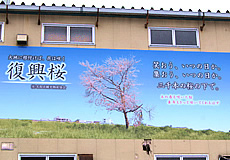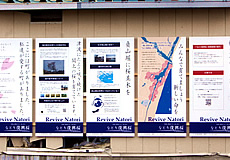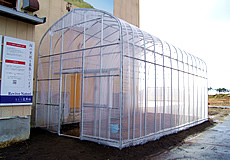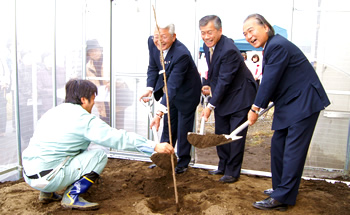 During the ceremony, the young trees were planted by the Mayor of Natori City,
Mr. Ichijuro Sasaki, the president of the Natori Tourism Association, Mr. Tetsuo Kojima, and the president of Sasanao Co., Ltd., Mr. Naoya Sasaki in the vinyl greenhouse at the existing site of "Sasanao". They gave speeches about Natori.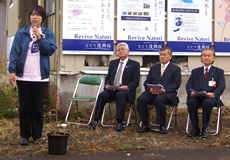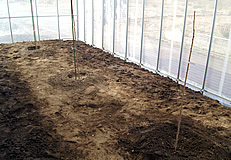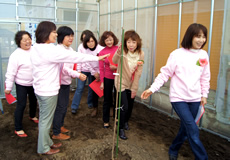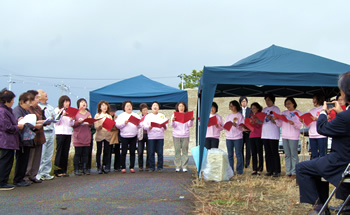 A chorus: "Hana-wa-saku" (Flowers bloom)
At the end of the ceremony, a local women chorus group "Call-Memory" sang the song "Hana-wa-saku" (Flowers bloom) which is a NHK song to support reconstruction. Almost all of the members of this chorus group used to live in "Yuriage", and lost their houses in the tsunami. Ms. Soga, representing the group, said that they restarted singing together because of the time they spent suffering. They got together in "Yuriage" to sing for the members who died in the disaster. Everyone was moved by their fantastic harmony.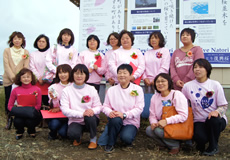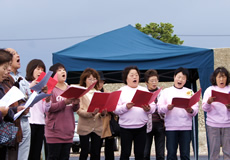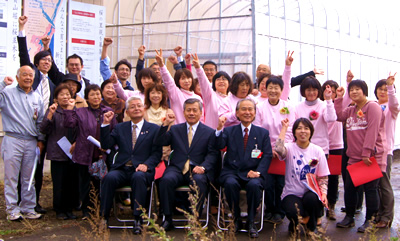 We invite everyone to come and help us raise "Natori's Revived Cherry Trees"! Thank you for your cooperation.